1st January, 1970
Slade started the 70's in a quandary. Their aggressive image was having an impact on their bookings but there are the usual ads in the usual Midlands venues and bookings in Summer for Europe including TV and radio. The Express & Star is referring to Ambrose Slade so they are probably long term bookings.
Express & Star: 6th January 1970
"The Cardboard Replica, Jimmy Powell and the Dimensions, Ambrose Slade and new group Revolver are booked for club dates this summer in Zurich, Copenhagen, Stuttgart and Hamburg, then for a series of one nighters in Denmark. Ambrose Slade and Revolver are also booked for television and radio."
There was lots of interest from the BBC who had them in the studios to record and various Radio 1 DJ's played their material. Brian Matthews played them on his
'Radio 1 Club'
show in January 1970.
"That's the powerful sound of the toughest group on the British scene. The skinhead set called Slade and this is their brilliant version of the Delaney & Bonnie hit, 'Coming Home'...
... ah, they're too much, really whacking it across to you there, the sensational Slade."
And it is brilliant, living up to Clapton's guitar work quite nicely. They followed it with an obscure Moby Grape track, found on the flip of their single 'Hey Grandma'. Once again the praise flowed:
"More rugged music from Slade. We think there are far too few groups like this around. This one's called Omaha."
In 1967 Don & Jim went to gigs by The Idle Race (Jeff Lynne's band) and Jim liked their cover of 'Hey Grandma' which was a Moby Grape song. Don spent much time at The Diskery, a record shop in Birmingham that specialised in imports and had booths for listening. The shop knew him well, he was a regular for years, and they would give him a pile of 45's to wade through. Jim bought the Moby Grape 45 and after he'd worked out the arrangement, he flipped it over and played 'Omaha'. He took it to the band and it became a regular in their set. The only change they made was the line "Listen my friend" which Noddy decided sounded better as "This is my friend."
"We'd find loads of obscurities like that at The Diskery."
Dave Hill: Live At The BBC
Other shows included the Dave Cash Show, The Jimmy Young Show and the 'Sounds Of The Seventies' hosted by John Peel, Pete Drummond, Stuart Henry or Mike Harding,
In early February,
John Wells
ran this small article in the NME.
New Musical Express:
February 7th 1970
Is pop music becoming too polished, too professional and therefore losing much of the infectious eccitement of the earlier rock days when groups played with more enthusiasm than artistry?
A lot of influetial people in the business are beginning to think so - among them ex-Animal, Jimi Hendrix manager, Chas Chandler who now looks after the skin-head group, The Slade.
To show just what an exciting group he has, he invited me to see them play at Pantiles, a dine and dance at Bagshot, Surrey.
They proved to be four very competent musicians particularly when they featured the Moody Blues "Knights In White Satin" using violin, but just as important was their visual impact.
They moved well and generated plenty of excitement and I doubt if many of the packed audience, some dancing, wil forget their gear, braces, bovver boots and all.
Chas, justifiable too, has high hopes of them making a big impact this year.
I believe it shows how hard Chandler was working, behind the scenes, to get the media to look beyond the image. It's worth pointing out that he'd produced Soft Machine
(1967-8)
and, since parting with Hendrix, managed
Glass Menagerie
and
Fat Mattress
, to little effect. I suspect his enthusiasm for the psychedelic
'long hair'
music scene was marred by this and resulted in his current stance. Focused on making rock music enthusiastic and interesting, Chandler seems to equate 'long hair' with 'boring' and, is trying to emphasise excitement in the Slade experience. At present it comes via aggression and angst.
New Musical Express: 7th March 1970
Shape Of Things To Come
was released on the 6th March 1970. This Mann & Weil penned song was first performed by Max Frost & The Troopers and and used as a film soundtrack. Slade performed the song with great gusto and turned out a very powerful anthemic song.
The group got the opportunity to appear on TV to promote it. BBC 2's
Disco 2
was the first appearance in March . The band made quite a powerful impression and the footage has survived but currently very few people have seen it. It was favourably reviewed, was compared to
The Who
and got the group their first appearance on
Top Of The Pops
(although that would not happen until April Fools Day)
, despite it's failure to chart.
The B-side of this release is the true gem though. '
C'mon C'mon'
is another powerful song but this time it's a
self penned
Slade
number that would remain hidden away from the majority of fans. The first of many that would become an obsession with many fans. The
unreleased
Slade B-Sides were treasured and they would not appear on an album release for nearly four decades. This particular B-side would be deleted within the year.
New Musical Express: 18th April 1970
"Getting a new agent had been a good move. Suddenly, we were being booked to play places like The Red Car Jazz Club, which was a well-known rock venue. We even made our debut at The Marquee club, a very prestigious gig. Yes were doing a residency there and we were to support them. They were fantastic. In those days, they did rock versions of songs from West Side Story and Beatles covers. I remember standing at the side of the stage, watching them and thinking, 'I've just played to that crowd.' I couldn't believe that we were on at The Marquee."


Noddy Holder

: "Who's Crazee Now?" 1999
Melody Maker: April 17th 1970
Slade supported
Yes
, on 10th April 1970, at The Marquee in London's Wardour Street. There was also a
'Special Guest'
on the bill, it must've been a strange night, skins in boots and braces against the long haired prog rockers. The Record Mirror's
David Skan
was brave enough to talk to the group and do an objective report on the scene.
AGGRO. VIOLENCE. HOSPITAL. REPRISAL. BOVVER. VANDALISM. BILL (THE POLICE). ARREST. COURT. REPRISAL. GANG.
It's the skinhead syndrome. Trouble is their business. The cult grew up about a year ago in London and the Midlands. They were offshoots of the mods. You can see them on the streets: cropped hair, as short as an eighth of an inch, grand-dad tee shirts, braces holding thigh tight Levis inches above Dr. Martens steel capped boots.
They are working class. They are tough. They are vicious. They are violent. And they are a natural reaction against the apparently soft front presented by the hairies, last year's hippies.
They hate hairies. "It's all that talk about love and Peace and all those clothes. They're flash. I mean I work for my pay, so I pay for them on the dole. Most of them have posh accents and they all went to public schools." Jimmy 17, from Bethnal Green.
They hate greasers. "I was once a rocker. I had the lot,,, black leather jacket, powerful bike… I got.my hair cut and just jacked it. There wasn't enough bovver:" George, 19, from East Ham.
They hate authority. "Once they all hated long hair. Now we have it short and smart and we still get all that aggro from the police." Harry, 16, from Tottenham.
They are hated. By hairies. By greasers. By authority. Owen Stable, deputy chairman of Hertfordshire Quarter Sessions. "Anyone unwise enough to that the Police are hired and paid to act as a punch-bag for layabouts is making a very serious mistake."
It's a head on collision. Skinheads ARE the youmg generation. Hairies made yesterday's news and who wants yesterday's papers? Hairies have their own heroes. Lennon, Jagger and sometimes McLuhan*. Hairies are todays young executives, tomorrows parents and the grand old folk of 2000.
Skinheads are here and now. Hairies are then and there. So it's complete. Skinheads have there own battles to fight, there own scene, there own group.
It's called Slade….
Record Mirror: 4th April 1970
THE BOVVER BOYS
Report compiled by
David Skan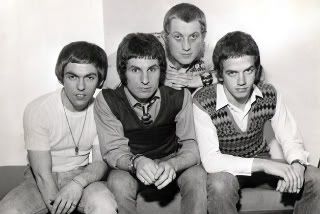 "WHEREVER we play there's always a load of police and they usually put on extra bouncers," said Dave Hill, 19, lead guitarist with Slade.
And he admits that the reason for these precautions is that the group has become totally identified with the skinhead cult - which in most middle-aged, middle-class, middle-minded minds means violence.
"You always get 10 per cent of the audience at a dance who are there to make trouble. It doesn't matter whether they are skinheads or rockers, they just want to fight,"
Trouble, however, is not Slade's business. Dave, he's squat like Davy Jones, short haired and wears white plimsolls and socks instead of the usual bovver boots, explained:
"For almost a year we went out on gigs as Ambrose Slade, except we kept getting billed as Albert, Arnold or Archie Slade. We were just like any other group ... long hair and all the rest of it. Then I had my hair cut short and all the others followed suit."
The same sort of thing was happening to almost half a million other teenagers AT THE SAME TIME. They found that they were part of the long-haired thing. They realised that they were younger than that and decided to establish themselves as a visible GENERATION by getting their hair chopped.

It cost Noddy Holder, 20, the group's singer, thirty bob and a lot of fooling to have his shoulder length hair cut,
"It was incredible. It was almost as if I became another person," he said.
And the fans had the same reaction. It was the old ah-ha syndrome at its best, The group APPEARED to be different. In fact they were playing exactly the same sort of music as before. So the skinheads tagged along. And sadly, from the group's point of view, their old fans left them.
"To start with everybody expected us to play reggae, That was, then, the in thing among skinheads. But we didn't and it didn't matter anyway because as they saw us that was enough. It didn't matter about what we played only what we looked like." Said Noddy.
Which, they are honest enough to admit, is a bit annoying to the group. Because they are all about music. Or they would be if they could.
"Everybody asks us to make the great definitive statement about skinheads but we can't. During the breaks at dances we talk to them and have a pint with them and they are just like your cousin or your sister," said Dave. He went on:
"They talk about their families, about their job's and about music. They only talk about skinheads when you ask them and then attribute all the phrases like aggro and so on to the press,"
After the break the group get back on stage and the skinheads start dancing and looning. It's different from the long-hot-summer, flower power, fanciful, free-for-all style of yesterday. By comparison you could almost say the hippies were waltzing.
"Skinheads don't move their feet when they dance, they stamp them up and down and make one helluva racket. The more noise they can make the better they like it," said Dave.
And they are the same almost everywhere. From Lowestoft to London, Brighton to Basildon, skinheads are clomping (their word not mine) the nights away. More often than not to the sound of Slade. And the group's appearance often louses up the chances of a fair hearing for any other group on the bill.
"As soon as the hairy groups go on all the skinheads start clapping their hands in the air swatting imaginary flies in front of them," said Noddy.
Consequently the other groups steer clear of Slade.
"We haven't really got any friends in pop, The other groups all think we are thickies, even though we have been playing together for two and a half years, They steer clear of us."
Which suits the skinheads. And, incidentally, Slade. Because it may be The Shape Of Things To Come (which is their latest single)."
For all the publicity their image generated, Slade still got nowhere fast. There was a belief that they were
championing the cause
for thuggish behaviour. Inevitably, the novelty wore off and media interest waned although certain writers, especially at the NME, took every opportunity to knock them forever after.
The evergreen George Hotel in Walsall, announced the
'Return Of Slade'
for 4th May with
DJ Alan 'Bee'
as support.
New Musical Express announced a 'one-nighter'
"...Slade at London Marquee..." on 12th June.
They played the Marquee again on the 15th. July with Gentle Giant as support. Their name is actually visible this time.
In the seaside resort of Weymouth they were billed as the "Great new in band with Shapes Of Things To Come" for their Friday night Summer appearance on July 17th. 1970 with Ruby Spoon and Wild Wally's Rock 'n' Roll Show.
No, that's not Ruby Spoon, I found now't on her. This is 'Wild Wally' who, I believe, performed in drag which must have been interesting if Slade had there skinhead fans in that night?

July 24th saw them at The Temple, just up the road from the Marquee. The Temple had no size issues, big and bold, just like it should be.
.
Melody Maker: August 8th 1970
Walking the boards of The Marquee stage less than 24 hours after Eric Clapton with his Dominoes collective. Slade, of course, were very familiar with EC having supported the Cream several times as The 'N Betweens. That was Wolverhampton though, this was good ol' London Town.
New Musical Express
: 15th August 1970
"SLADE REPRESENT BRITAIN


Slade is to represent Britain in an international radio spectacular to be broadcast throughout the Continent. Eleven nations are taking part in the event, which is being held in Germany this weekend and Slade will make a 15-minute contribution. The group has moved from Philips to Polydor, and is now planning an initial LP and single for its new label."
In Wolverhampton, John Ogden reported in his
Top In Pops
column.
Slade - the skins from Auntie
"Skinheads representing the BBC? Yes, it's happened. The skins, of course, were Slade (pictured below) who took part in a festival of song in Heligoland which was broadcast over most of Europe.
It was the first time that a British group had taken part in the festival. Usually a solo singer is chosen, and last year Britains representative was Clodagh Rogers.
Despite the change in policy no-one was dissapointed. Slade went down extremely well. If they keep on following in Clodagh's footsteps could it be Slade for the Eurovision Song Contest next year?
Now they are back in England, doing appearances all over the country, waiting for the next single to come out next month. At the moment their producer (sic) Chas Chandler seems undecided as to which song will be chosen. I hear that at this moment it's between "Dapple Rose" and "Know Who You Are".
In October their second album is due out, and it's called, for obvious reasons, "Play It Loud".
Both the album and the single mark a new phase for Slade, as they have now left the Philips label for Polydor.
All the numbers on the L.P. will be their own."
Express & Star: Thursday, August 20th 1970, page 36
Slade represented Britain at Helgoland but there is no indication as to why they were chosen. It's possible that Chandler called in a few favours to get this opportunity, generally, the band were well liked for their professional behaviour and maybe they were being helped through the transition.
The Pop & Beat Koncert Festival was broadcast across Europe by Radio Nordring as 'International Sommerradio'.
The band had no hits yet but played but played their 45's. Europe did not have such strong feelings against skinheads and their hair needed time to grow back. They were introduced on stage as a skinhead group from Britain, "We proudly present Slade!"
Launching into a rousing rendition of Hear Me Calling featuring, I assume, Swinn 'on the siren', they performed their "last record that was out in England" to which Holder ruefully added "one you might have heard" Shape Of Things To Come was followed by an energetic performance of Know Who You Are. Holder did not refer to it as their next single because Chandler was still undecided as to which track to release. Their performance was short but, none-the-less effective but Don Powell managed to drop the 'F' bomb in a live interview which may have tarnished their post-performance shine.
Melody Maker: 28th August 1970
Returning from their European assault, the group headed to the Black Prince in Kent, 23rd August, before moving on to Bristol.
The Old Granary
was
'Bristol's Swinging Late Night Scene'
where you could
'wine, dine and dance till 1am.'
The Granary Club: Monday 24th August
"SLADE stands for a) the Society of Lithographic Artists, Designers & Engravers, b) a London Art College, and c) a very good group who, perhaps unfortunately chose cropped heads and braces as a recognition factor. Their agent assures us however that now they've let their hair grow, so there shouldn't be any prejudice to stop you enjoying their music.




Also YEMENE will show you how much better they've been getting since they joined us."
Al Read
, author of
The Granary Club: 'The Rock Years 1969 - 1988'
recalls Slade playing and going down very well.
"We had an established and healthy following of students and music fans and could rely on a crowd whatever group was advertised. The early Granary days were famous, not only for the standard of the music but also for the light shows. Lightship, Diorama and First Light. The light shows transformed the Granary with liquid light, movies, panned stills and many other effects and each light show had their own following."
"We had the Granary girls, they were a publicity stunt dreamt up by the club manager who was often seen leaving the club at the end of the night with several girls in tow each carrying a bottle of wine."
"We had a good working relationship with the London agents (we always paid the bands on the night, often putting them up at our flats if they wanted to stay, so when one of the offered us Slade with the promise of a good rock show and that their image had changed from the skinhead look, we took him at his word and I'm glad we did."
Melody Maker: 5th September 1970
September saw the band in Leicester Square for a night at
The Factory
, the 18th saw the release of the groups new single,
'Know Who You Are'
, their first release on their new label, Polydor.
ARRANgements 9: September 1970
"By overwhelming demand we again feature a group who must become huge very soon. Hear their new single 'Know Who You Are' out now. They are of course - SLADE"
Always popular in Scotland and a regular on the Isle Of Arran, Slade performed three days running alongside both,
Tennis
and
would-be regulars
,
The Sleaz Band
at Brodick, Whiting Bay and Lamlash on the 25th, 26th & 27th of September 1970. Their hair was now back although the Scottish fans wouldn't care one way or the other.
The 28th September brought another Marquee commission for an 8th October appearance, the receipt tells us that the fee was fifty per cent of the takings less 5% commission. The group were regulars now so the deal must have been worthwhile but it's surprising how close to the date it was booked.
.
The Marquee text hails Slade's progression, this time the groups name is in bold type, still quite small though, in comparison
Express & Star

:
19th October 1970
A hairier Slade, a new album
"Slade's Dave Hill, somewhat hairier than of late, dropped in this week with some good news for his fans: no less than three TV appearances this week. I don't think even Tom, Engelbert, Lulu or Dusty have managed that, even with their monopoly.

They appear on "Disco Two" on Saturday, singing their new single, 'Know Who You Are' and another song 'Sweet Box' and they have appearances booked for "Liftoff" and ATV Today.

The sudden interst from the TV moguls is more than likely due to them having a new single and a new LP out (at least the album will be out next week). The single has already been released.

ROCKING
Dave also produced an acetate copy of the LP for me to hear - and it certainly won't lose them any fans.

It's full of Slade-type numbers, hard, rocking songs with a driving backing and Noddy in excellent voice throughout.

Much more succesful than their first album, in fact.

Over the years I've become wary of reviewing, so easy to make a judgement and then, after further listening, find out that you were wrong.

I don't think, however, that it will be the case with this offering. I like most of the songs on it - the only exception being 'Dapple


Grey.'(sic) But I know that others really like this one - one chick more so than the rest of the disc - so where do you go from there?



It just stands out as a rather weird one for me, possibly because it's out of context with the rest of the album.

Slade have built up an image as the voice of the young teenager and most of their songs reflect it very well.


"See us here, see us there
Pick us out anywhere,
You can see us everywhere
So what makes you stop and stare."

That's one of the verses, and I suppose that roughly translated it could mean "Want bovver?" to people who think like that.

Their songs are full of the self assertion of youth - and rightly so "We're old enough to know from were we come and where we go and what we're here for." they say, so "what do you fear for?"

Pounding, thumping, churning backing which leaves you in no doubt at all that they are confident as they claim to be.

Their two singles are good examples as any, and there's plenty more of the same kind of thing on the album.

All except 'Dapple Rose,' which is about a poor old horse starving in the snow because it's master doesn't want it any more. There's even a bit a bit of 'Hearts and Flowers' violin in it and a rousing singalong chorus which in darker days days would have had clueless pop moguls choosing it as the most commercial single.

I think Slade are going to be an even bigger name very soon than they are now. It's easy to see why they are so liked at places like the Temple in London, where they are recieved as local favourites in a place which has many top progressive groups. Or in the college circuit, which is taking up more and more of their time.

Without being pretentious they have developed an act which speaks for a good part of youthful society in an exciting and literate manner.

And as long as they keep coming out with sounds like 'Sweet Box' they will continue to grow in popularity."
Record Mirror

: 24th
October
1970
SLADE GET RID OF THEIR IMAGE
THE OWNING up, when it came, was predictably terse. "O.K. it caused us a lot of bother", said Noddy. He was talking about Slade's identikit image, which scalped their music and left them looking like sinister little skinheads better fitted for fights than sounds.
Unfortunately it worked almost too well. Because the medium became the message when the real message was music. And the idea of having a bunch of thickies on a television or radio programme didn't appeal to progressive producers.
"They all got frightened off by our image", said Noddy. "At one stage it even began to affect promoters. They thought we were just a bunch of idiots out to cause trouble."
But once the group played a gig the promoters got a pleasant surprise. They discovered that the group is about music, despite the cheery reds, the hitched up braces and tee- shirts.
And it's not all the sort of raucous rave-up that you'd expect. Not that the group ever played reggae (remember?) but they were always in the front line when it came to a noisy jam.
Now the group is into much more melodious music, utilising an electric violin and a piano for their ever increasing repertoire of slow numbers.
"The sort of songs we are writing now require much more work than the sort of 12 bar blues riffs we used to base our stuff on. Nowadays we are aiming for a much softer sound in a lot of our songs", Noddy explained.
The group is also busy perfecting a strong harmony line which, when they jumped on board the skinhead steamer, was right out.
It is almost as if they were back to what many regard as the good old days of Ambrose Slade (as they used to be). But the skinhead interlude served its purpose. Many more people are aware of the group and many more are now listening to its music.
"When people come and see us with a completely open mind we find that we really go down very well. Luckily there are a lot more of them these days. A little while ago quite a few people steered clear of us because they thought we automatically attracted the toughest of the world's skinheads. But even some of them like our music!"
Their songs - ten are featured on their twelve track LP 'Play It Loud' just issued - stem from their memories of early childhood. One, Dapple Rose, is about a horse being put down, another 'Know Who You Are' themes on the lead guitarist whose pet foible is wearing his father's socks.
''They're not very London-cool songs but we are not that sort of group. In fact I get a little bit niggled by the cult of cool, which is constantly, being flogged round London. People should enjoy themselves. They should have emotions; they should get excited and have a good time.
But in London that sort of behaviour isn't cool. Even some of the groups stand on stage in London looking like death warmed up. They just stand there looking like a depressed area.
I hate that sort of thing. At least when we play we are happy. We want people to be happy listening to us. We want them to enjoy themselves and laugh ... even if they're only laughing at us!"
by DAVID SKAN
Another night at The Temple and a night on the town.
MM's Chris Charlesworth' becoming the rake of London. Latest escapade, downing pints of champagne and Scotch at Slade's raving debutante party in the City. "Never has so much been drunk by so many in such a short amount of time..."
Melody Maker: 31st October 1970
The Halloween Friday night found Slade playing the Chiswick Polytechnic with the Spirit Of John Morgan and Blood Son
(two words this time. At The Temple in April it was one)
. I guess Slade were scary enough to look at, they didn't need a scary name.
On the 14th November Slade were back in Scottish Highlands. "Dingwall Fire Brigade Club present a return visit of the fantastic Slade plus My Dear Watson" suggesting they played here before. Chances are they were a long-haired hippy band on their previous visit. I wonder how the shorn image went down in Dingwall Town Hall.
© Copyright Andrew Wood
Little more than a week later the Play It Loud album was released, their first album for Polydor. It was also the first time they'd been given creative licence. In fact, they'd had it thrust upon them, Chandler had insisted they write their own material. The group had tried pairing off for different collaborations and they had come up with some adventurous sounds. Of the twelve songs on the album, three are covers. Lea & Powell came up with most of the album content, four songs together and four more with Holder. Only 'Know Who You Are' is credited to all four band members. Lea & Powell were also responsible for Candidate, Wonderin' Y and Man Who Speeks Evil, all strong songs in the same vein. Holder also wrote some alone, C'mon C'mon and My Life Is Natural, two very different songs but very worthy. Hill never got into song-writing but he did partner up with Holder for two tracks, Do You Want Me and Gospel According To Rasputin, dark, broody and sexual songs which were probably Holders lyrics. All of their output was quality product but not commercially viable which is probably why Chandler relegated it to B-side material.
The album is published by Montgrove Productions whereas subsequent recordings (i.e. 7" B-side releases) are Barn Productions.
Montgrove is, I believe, Chandler & Robert Stigwood and possibly John Gunnell too. I would suggest that Play It Loud was recorded late '69 alongside the skinhead bad press. Wild Winds Are Blowing flopped and
Stigwood probably stepped away. Gunnell probably lost interest, expecting the group to bomb.
Chas set up Barn and recorded more, released Shape Of Things To Come in March 1970, Know Who You Are in September 1970 before breaking into the mainstream with Get Down & Get With It in 1971.
The Mercury: 20th November 1970
The 5th December saw Slade return to Walsall Town Hall to kick off the Saturday Dance nights. The cost of entry was 7/6 and
Clint Christian provided the "Non Stop Disco".
Portsmouth Evening News: 10th December 1970
"TRICORN Tonight





'SLADE'




Don't miss the return tonight of one of the country's most exciting live groups. Two sessions from SLADE plus all your favourite sounds.




'Off The Record'




with DJ Pete Cross




Big crowd expected so arrive early.




It's CHEAPER before 10"
It's December 1970 and Slade are
returning
to the Tricorn Club in Portsmouth, where they already have a reputation as an incredible live group.
Express & Star: Wednesday 16th December 1970

As Christmas approached, Slade advertised for a new roadie. The ad ran again on
Saturday 2nd January 1971. I wonder who got the job?
A
'Boxing Day All-Nighter'
at The Temple. Not a bad gig I would imagine, it's a venue that Noddy Holder likes to mention in his anecdotes.
This may have increased their crowd number.
"Happy Christmas to all Farx freaks. We are closed this week, but if you want something to do on Boxing Day go see Gnome Sweet Gnome at The Temple."
And you'll also get to see the headline act, the up and coming Slade. Not a bad Christmas pressie.
Express & Star: 21st December 1970
Slade finish 1970, as far as I know, in Wolverhampton. The Connaught Hotel had been a regular on their gig rosta for half a decade. It must have been nice to go home, all be it briefly, still working but they would probably have had time to say 'Merry Xmas' to the family.
As 1970 closes, they are still part of the Robert Stigwood Organisation.

*Not obvious to me but David Skan is probably referring to Marshall McLuhan, the 60's philosopher prominent in the 'Flower Power' decade. The San Francisco "God is dead" crowd made McLuhan a Hippie icon. My thanks as always to Chris Selby for providing a plethora of dates and generally pointing me in the right direction. This page is far from complete and, as such, an ongoing work.
1970
02/01/1970 BBC Radio 1 Dave Cash with Slade
11/01/1970 Aldridge Community Centre
12/01/1970 George Hotel, Walsall
18/01/1970 Layfayette, Wolverhampton
23/01/1970 Queen Mary Ballroom.Dudley
24/01/1970 The Ship & Rainbow, Wolverhampton
29/01/1970 Whiting Bay, Isle Of Arran
31/01/1970 Connaught Hotel, Wolverhampton
03/02/1970 Francis Martyn Y.C.Bloxwich
07/02/1970 Baths, Bloxwich
11/02/1970 Aldridge Community Centre
16/02/1970 George Hotel, Walsall
17/02/1970 Long Acres Club, Bilston
20/02/1970 Farx Club, Potters Bar, London
29/02/1970 Connaught Hotel, Wolverhampton
05/03/1970 Bag Of Nails Club, London
06/03/1970 Shape Of Things To Come Released
08/03/1970 Ship & Rainbow, Wolverhampton
14/03/1970 Wulfrun Hall, Wolverhampton
15/03/1970 Community Centre, Aldridge
21/03/1970 Disco 2 (TV appearance)
27/03/1970 Marquee Club, London
30/03/1970 Connaught Hotel, Wolverhampton
06/04/1970 George Hotel Walsall
10/04/1970 Marquee Club, London
17/04/1970 Sodom Club, Coseley
19/04/1970 Connaught Hotel, Wolverhampton
20/04/1970 Bilston U.S.C.
27/04/1970 Coseley YC
02/05/1970 Fox & Goose, Kingswinford
03/05/1970 Queen Mary Ballroom, Dudley
04/05/1970 George Hotel, Walsall
08/05/1970 Marquee Club, London
10/05/1970 Connaught Hotel, Wolverhampton
12/05/1970 St Giles YC, Willenhall
16/05/1970 Staffordshire Volunteer, Birmingham
17/05/1970 Community Centre, Aldridge
22/05/1970 Bilston USC
29/05/1970 Walsall Town Hall
31/05/1970 Ship & Rainbow, Wolverhampton
02/06/1970 Francis Martyn YC, Walsall
05/06/1970 George Hotel, Walsall
12/06/1970 Marquee Club, London
13/06/1970 Connaught Hotel, Wolverhampton
19/06/1970 Fox & Goose, Kingswinford
20/06/1970 Pak Hall Hotel, Wolverhapton
29/06/1970 George Hotel, Walsall
05/07/1970 Ship & Rainbow, Wolverhampton
10/07/1970 Ballerina Ballroom, Nairn
15/07/1970 Marquee Club, London
17/07/1970 Pavillion, Weymouth
18/07/1970 Connaught Hotel, Wolverhampton
19/07/1970 Queen Mary Ballroom, Dudley
24/07/1970 Temple Club, London
26/07/1970 Lafayette Club, Wolverhampton
31/07/1970 Broddick, Isle of Arran
01/08/1970 Whiting Bay, Isle Of Arran
02/08/1970 Lamlash, Isle Of Arran
10/08/1970 Park Hall Hotel, Wolverhampton
12/08/1970 Marquee Club, London
15/08/1970 Nordseehalle, Helgoland
(with Pan, Golden Earring, Gluntan, Carriage Co, Knut Kiesewetter & his Kay Kays, Made In Sweden, Right Across My Bed)
23/08/1970 Black Prince Hotel, Bexley, Kent
24/08/1970 Granary club, Bristol
(supported by Yemene)
29/08/1970 Connaught Hotel, Wolverhampton
06/09/1970 Community Centre, Aldridge
09/09/1970 Factory Club, Leicester Square, London
13/09/1970 Queen Mary Ballroom, Dudley
18/09/1970 Know Who You Are / Dapple Rose released
20/09/1970 Connaught Hotel, Wolverhampton
25/09/1970 Brodick, Festival Isle of Arran, Scotland
(supported by Tennis)
26/09/1970 Whiting Bay, Festival Isle of Arran, Scotland
(supported by Sleaze Band & Brodick)
27/09/1970 Lamlash, Festival Isle of Arran, Scotland
(supporting Blodwyn Pig)
03/10/1970 Wulfrun Hall, Wolverhampton
08/10/1970 Marquee Club, London
24/10/1970 The Temple, Wardour St. London
25/10/1970 Connaught Hotel, Wolverhampton
26/10/1970 George Hotel, Walsall
01/11/1970 Community Centre, Aldridge
08/11/1970 Community Centre, Aldridge
20/11/1970 Civic Hall, Wolverhapton
22/11/1970 Connaught Hotel, Wolverhampton
28/11/1970 Queen Mary Ballroom, Dudley
28/11/1970 Play It Loud released
05/12/1970 Town Hall, Walsall
10/12/1970 Tri Corn Club, Portsmouth
16/12/1970 NEW ROAD MANAGER AD
24/12/1970 George Hotel, Walsall
26/12/1970 Temple Club, Wardour Street, London - 'Boxing Day All Nighter'
(supported by Gnome Sweet Gnome and Welcome)
27/12/1970 Connaught Hotel, Wolverhampton