London, 4th September, 1974
In 1973 I was fortunate enough to attend the NME Pollwinners Concert at Wembley and the Earls Court concert, both of which were magnificient although
I remember nothing of the actual shows
now.
What I do remember is getting the invite to the filming of the live scenes for the Slade in Flame movie. I was so excited and also so worried that my Mum would not allow me to go. The filming was taking place at
Finsbury Park Rainbow
on a schoolday. I had to think long and hard about whether I should tell my Mum or just bunk off school and go to London?
Fortunately I told her and she was cool about it. It turned out that there were 3 days of filming, the 4th, 5th & 11th of September 1974. You needed tickets to get in and they were given to us as we left the gig. I recall they were pissed off because the flame shaped guitars, made by
Framus
in Germany, didn't arrive early enough for the first day of filming.
The filming sessions were choreographed, of course, and there was a lot of stop/start going on. Noddy addressed the crowd in civvies and explained to all that there would be a lot of waiting around but be patient and the group would be back soon to play some of their Slade hits. He also made it clear that no
Slade
stuff should be showing and that the names
Noddy, Dave, Jim
and
Don
were banned while the cameras were rolling. We were encouraged to shout out
Stoker, Barry, Paul
and
Charlie
but I don't think many people felt comfortable with that. Most people just screamed
"FLAME
" which was odd enough anyway.
About 40 minutes later they came out in their
Flame
costumes and played a few songs. Try as I might, I cannot recall with any certainty what they were but I think
Mama Weer All Crazee Now, Cum On Feel The Noize
and
Skweeze Me, Pleeze Me
were played. I seem to recall them playing
Far Far Away
too but I'm really not sure? It makes sense I guess, obviously this was a warm up for the group and also to get the audience into character. It was also the film crews chance to monitor the levels and frame the shots, etc.
Between the stage and the crowd was a space for a cameraman to walk along. In my head I remember a metal barrier and a guy with a Steadicam but I don't think they were invented yet so he may have been on a dolly but I couldn't see it. I remember the camera had a light on it and I could see his face pushed into the viewer.
In the movie there is a scene where a blonde girl gets onto the stage and gets carried off by security. We were standing right behind her in the crowd. We could hear the film crew telling her what to do and when to do it. I tried talking to her but she was so focused on what was about to happen that I might as well not have been there. She had a home made Flame banner, red letters on yellow silk which she asked me to hold onto for her. I never saw her again except in the movie but I kept the banner, I probably still have it in my attic?
---
Slade Fan Club Newsletter
October/November 1974
REPORT FROM THE RAINBOW
"During the filming of Slade's new film 'Flame' they shot a live performance at the Rainbow Theatre in front of an invited audience from the Fan Club. At 3 o'clock they took their seats in the stalls. They looked great; lots of them had sewn sequins and foil to their T-shirts and 'Flame' burns from a hundred vests. Banners and Noddy Hats, Streamers and even cardboard guitars sprayed with silver. Lots of reflecting colour, lights and crackling foil ribbons. They had really worked hard. 'Everybody's gonna be film-stars today' Nod hollers at the audience. Dave's had his hair cut. Jim looks very cool and together, Don looks well and happy and Nod is Nod. Today though, he's called Stoker, Dave is Barry Jim's called Paul and Don is Charlie. 'Flame' is a group picked up by a management and told what to do. I don't think it works like that now. The period is 1967 and that sort of thing went on then. 'Flame' entered from the bows of the stage wearing tremendous suits, yellow and red sort of jester outfits. Smoke seeps meaningfully around them. They sing 'Wishing you were here' from their new album."




"The banners are waving, the sequins are flashing, the security men are sweating. 'A good one that' shouts Noddy, 'there's cameras all around ya focused on you lot, you're all stars tooday, so lets ERE YA NOIZE'.
COMPETITION
"The response from last month's competition was tremendous and I spent many an hour reading your fascinating stories. The winner was chosen by Nod during one of the few breaks in the filming of 'Flame'."
A WORD FROM JIM
"...
Stardust was also on our agenda, the film was very sad and I now do believe that it has received an AA Certificate. I wonder what certificate the censors will give our film? Perhaps one day Dave Essex and ourselves could get together and make a film?"




Jim Lea: Newsletter Oct/Nov 1974
---
Slade Fan Club Newsletter
December/January 1974/5
"After the very successful filming of 'Slade in Flame' at the Rainbow Theatre in September, there was to be another filming there in October. This was for a different scene but because of technical difficulties and the fact that they could not arrange a film crew for that day, we had to cancel it. The boys wish to apologise for the disappointment caused, and hope that seeing the film on the screen will make up for it."
I guess that means they used
(or cut)
the 'not good enough' scenes?
---
I found this business card in the Rainbow, never found out what it was for. I looked throughout the movie, in case it was a prop, but haven't spotted it?
SLADE IN FLAME
FILM
FLAME traces the story of a rock band's gruelling struggle to stardom, their brief span of success, and subsequent disintegration due to external pressures and internal conflict.
Treading the boards of the north country are JACK DANIELS AND HIS DT's, a 'second-rate band working a third-rate audience, with a fourth-rate agent creaming 10%' CHARLIE (Don Powell) auditions for the job of drummer, joining BARRY (Dave Hill), and PAUL (Jimmy Lea). JACK DANIELS (Alan Lake) monotonous circuit of North Country clubs, aided by BARRY's sometime girl friend, ANGIE (Sara Clee), and managed by a small-time crook of fading hopes, RON HARDING (Johnny Shannon).
The group's venues bring them into contact with a rival outfit, ROY PRIEST AND THE UNDERTAKERS, a quasi-rocky horror band starring STOKER (Noddy Holder) as lead singer. DANIELS sabotages The Undertakers' performance by locking STOKER in his stage coffin in the middle of their act. A chase ensues, culminating in a bizarre fracas, which lands both groups in jail. PAUL and STOKER, the composing elements of their two respective bands, wind up in the same cell, and following their release the group reform as THE IRON ROD -- with STOKER replacing DANIELS, and involving BARRY's old school-mate, RUSSELL (Anthony Allen), as their unpaid roadie.
The group's début at a local dance hall ends in near disaster when a violent clash develops between HARDING and STOKER. HARDING has never looked upon the group with much enthusiasm and uses the incident as a convenient excuse to drop them from his catalogue of dubious talent. However, their efforts have been noted by TONY DEVLIN (Ken Colley), working on behalf of a successful London advertising executive, ROBERT SEYMOUR (Tom Conti). After initial testing SEYMOUR has the band brought to London where he proceeds with much the same methods as he applies to cigarettes. The group are polished, groomed, fitted, dressed, and finally launched as FLAME on an unsuspecting public.
The publicity programme is given a boost when the group become involved in a pirate radio attack in the Thames estuary, and their subsequent rescue brings them nationwide attention.
FLAME's growing success has also been brought to the attention of their former manager, HARDING. He re-surfaces at a celebration party to inform SEYMOUR that the group are still under contract to his agency. SEYMOUR arranges for the offending document to be discreetly removed from HARDING's office and continues undeterred. HARDING tries to threaten the contract on SEYMOUR's behalf and has him beaten-up. SEYMOUR growing conflict between STOKER and PAUL, and while HARDING struggles with SEYMOUR for control, the group begins to slowly disintegrate. In addition to the creative conflict, they are becoming increasingly disillusioned with the life they are forced to lead.
A nationwide tour is launched but despite FLAME's success SEYMOUR is pressurized by his backers to either come to terms with HARDING or else pull out. Realizing that the group themselves will shortly break up, SEYMOUR finally agrees. On the last night of the tour he returns home to call HARDING only to find he's too late. HARDING has sent in his operators to desecrate his child's bedroom.
The following morning, HARDING arrives at the group's hotel to inform them of their return to his agency. He too left empty-handed: STOKER blandly tells him that FLAME no longer exists.
Filmed in Panavision and Colour, with an original score by SLADE, FLAME will engender the audience with the feeling of having participated in what might have been a slice of a pop band's own life.
ALBUM - The album Slade in Flame was released on 29th November - it was scheduled for the 22nd., but Polydor could not produce enough copies to cover the advance orders in time. The album contains 'How does it feel', the theme song from the film, 'Them Monkeys Can't Swing' is the first number performed in the film by the group under the name of Iron Rod. 'So far so Good' - this is used in the film as the initial number one hit for the group, FLAME. 'Summer Song' is performed in the final sequence of FLAME as the villain of the piece turns up at the seaside hotel to try to force the group to return to his agency. 'O.K. Yesterday was Yesterday' - for those who like their SLADE with all stops out. 'Far Far Away' - already a monster hit as a single for SLADE bringing them a silver disc within two weeks of release. 'This Girl' - in the film there is another group, Roy Priest and the Undertakers, and they play this number - though in FLAME the lyrics differ from those in the album. 'Lay it Down' - used in the film as the background prior to the beating up scene. 'Heaven Knows' - a picked - guitar intro to this easy tempo song. 'Standing on the Corner' - strictly boot-music, heavy instrumental backing laid down for Noddy Holder's cast-iron-lung delivery.
Once again, SLADE have achieved a Silver and Gold award for this album even before release date.
BOOK - The book FLAME has been written by John Pidgeon, and is published by Panther in January, available from all Bookshops at 50p. There has never been a book which captured the sweaty ambience of the Rock business so authentically. Seedy clubs, dishonest managers, catastrophic fatigue, the painful clash of personalities and the cynical manipulation of the media. It's all here in a hard-hitting novel by an author uniquely well placed to tell it like it is.
I hope you all had a happy Christmas and I take this opportunity of wishing you a Happy New Year. That's not only from me but the boys as well.
NEW SINGLE
'How Does It Feel', taken from the film, is Slade's latest single, released February 7th. The 'B' side is 'So Far So Good' which in the film is Flame's first hit single. Once again, the single is wrapped in a colourful sleeve. I personally think that 'How Does It Feel' is the best song from the film, even better than 'Far Far Away'. The album Slade in Flame sales are tremendous, and have just surpassed the 200,000 mark in just over one month. By all accounts it looks as though it will be Slade's biggest selling album.

Still available are the Slade In Flame T. shirts in small, medium and large sizes at £1.20p including p & p and VAT. The Slade In Flame film viewers have gone exceedingly well and we are having to order another batch. These contain 20 colour frames of scenes taken from the movie. These are obtainable from me for 50p plus 5p p&p. The Slade in Flame poster magazine is only available from newsagents. If you have difficulty in obtaining a copy please inform your newsagent that it is distributed by New English Library."
---
Slade Fan Club Newsletter
February/March 1975
SLADE IN FLAME
"The following is a breakdown of release dates for the film. Please check it with your local paper or the cinema.

January 19th - Tyne Tees

January 19th - Yorkshire

February 16th - London North & South

February 23rd - Southern

February 23rd - Westward

February 23rd - Anglia

March 16th - Lancashire

March 16th - Scotland




The London

premier

is at the Metropole Victoria on the 13th February. Slade will be making promotional appearances in most of the areas."
Even more amazing was the invite to the London Première at
The Metropole Theatre
in Victoria. I got Jim Lea's autograph, Rob, Ray & Les Gray from Mud and the incredible Suzi Quatro. I thought I'd died and gone to heaven, especially when I stuck my face in
Diana Dors
cleavage and she still signed. The surprise was that her husband
Alan Lake
did too, I'm surprised he didn't lump me?
I remember turning up in Victoria and there were loads of people crowding the street. A spotlight lighting up the front of the theatre and we guessed that they were waiting for the group. As it turned out, this fire engine turned up driven by a fireman with a big, bushy bright ginger beard.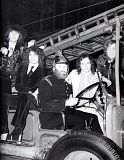 WHAT THE PAPERS SAY ABOUT 'SLADE IN FLAME'
"'SOUNDS' - This film suffers less than most from the obvious imbalance of having musicians in the lead roles, surrounded by experienced actors. Slade play themselves at least as well as they usually do, and in Noddy Holder in particular, they have a natural scene-stealer. Flame' is basically the same old story, told more accurately and wittingly.
Unlike 'Stardust', it has strong music and stage image at the centre of it all, proving that Slade haven't lost their touch, and the music shines through.



'DISC' - Before the film has been released, the album has already sold over 170,000 copies. The book is a different story again. To produce its paper, 550 trees were cut down which weighed in at just under 30 tons. A quarter of a million copies have already been printed. It is the largest print that the book publishers, Panther, have done for the home market alone, in their entire history. I found the film interesting, purely to judge Slade's acting talents Noddy came out best He obviously found the whole thing a cinch, and was surprisingly natural. Don was good too. Jim was a runner- up, and gave a fair performance.
A film that Slade fans can't miss, a film that will make very interesting viewing if you like to see a handful of the scenes that go behind the making of a pop star. Judge for yourself!"

Next Page